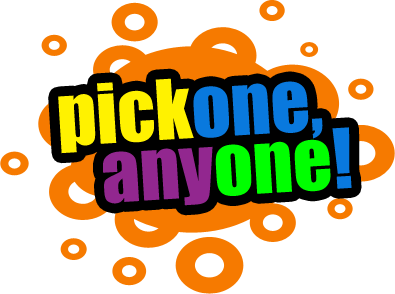 Pick One, Any One! is Just For Fun forum hosted by Dalton.
About every other day in this forum moderator Dalton posted a thread, or a round, that listed three unique products. Then forumers would post about which of the three products they would take if offered, why they choose product X over product Y, and the products in general. These items, being unique, and possibly even sometimes strange, were real conversation starters and simply interesting to read about because of their own individuality.
The original plan was for their to be fifteen of these rounds with a total of forty five products listed, with each round posted every other day with the exception of two rounds on a weekend, so the forum would last a little over three weeks. Dalton lost access to his site where the round were hosted so rounds 12 through 15 never happened. So, Dalton posted the eleventh round about two weeks late. Rounds 12 through 15 never happened.
Schedule for Season 1
Edit
Original Round datesEdit
February:
2nd,
4th,
6th,
7th,
9th,
11th,
13th,
14th,
16th,
18th,
20th,
21nd,
24th,
25th,
27th
Actual Round DatesEdit
February:
All of the same proposed dates, except, no rounds 11 through 15.
March:
11: 3rd
Ending Round
Edit
On the 3rd of March a special end round was held. During this round instead of three new products, the ten most popular products from the all the previous rounds were be voted on and discussed. In addition to this forumers will also be able to suggest products for the forum's second season.
Season 1 events
Edit
Dalton accidentally lost access to his website where he was storing information for the upcoming rounds, so the eleventh round was delayed.
Outcome of Season 1
Edit
Standings:
Round 1 Leader: "Roll Em Up Keyboard"
Round 2 Leader: "Ninja Umbrella"
Round 3 Leader: "The PoGo Digital Polaroid Camera"
Round 4 Leader:"Pet's Eye View Camera"
Round 5 Leader: "Digital Camera Dive Mask"
Round 6 Leader: "Action Sports Hands-Free Helmet Cam"
Round 7 Leader: "Hamster Cage Paper Shredder"
Round 8 Tie: "Cute but Ugly Dolls" & "Be™ Digital Pocket Pix"
Round 9 Leader: "Spy Pen"
Round 10 Leader: "USB Drink Warmer/Cooler"
Round 11 & End Round Leader: "USB Drink Warmer/Cooler"
Pinned Threads
Related Articles
Edit
External Links
Edit
Community content is available under
CC-BY-SA
unless otherwise noted.