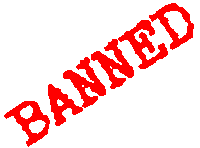 Bans are when a user has been suspended from the forum for a short or long amount of time for breaking rules.
Explanation
Edit
If a user is banned, their Post Rank will be 'BANNED'. If the user has been banned forever, their Post Rank will be 'PERMA-BANNED' in addition, their avatar (excluding the pre-made ones)and sig will be removed.
During a ban a user is unable to post, edit their posts, or change their user profile, though they may still log in and view threads. If they do it will still be shown as their most recent activity as it is with regular forumers.
You automatically get BANNED/PERMA-BANNED for having 5 infractions. You could get perma-banned if you post disgusting stuff or are thought to be a spam bot, even if you don't have any other infractions. Warnings do not officially affect bans in any way. Though a moderator may feel a ban is necessary if you've already gotten a warning for the same offense.
Community content is available under
CC-BY-SA
unless otherwise noted.