NOTICE: This page has been protected due to excessive vandalism!
This page has been vandalized multiple times and as such only registered users that are logged in can edit this page.
An Introduction to the Club Penguin Forums

Screencap from the film's introduction.

Released

2008

Running Time

24:58

Release Label(s)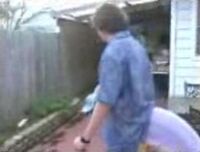 An Introduction to the Club Penguin Forums is a short film created by RFS Media Productions and Twisted Studios in 2008. The fictional Miniclip Information Agency is also credited as a production group in the film. The film was produced as a surprise for MCCP's first-year anniversary and is a satirical look at how to use the forums. The segments hosted by Dracophile before and after the "film within a film" are modeled to look like a generic falsely-upbeat educational film, a reference towards The Miniclip Information Agency being a government organization commissioning an educational film about their forums, and the assumption that all educational films are uninspired and dull.
The "actual" film touted as An Introduction to the Club Penguin Forums portrays almost all discussion forums and subforums in a matter of less than a minute each. Each forum is parodied by either a meme or a mentality propagated specifically in that forum; for example in the "Fan Art" forum sketch Jason is seen coloring a penguin with crayons and puts his work on the refrigerator.
After the closing of the show a five minute blooper reel plays during the credits.
This film is notable as being the final production of RFS Media Productions, although the label's name does appear in name only in some later productions.
An Introduction to the Club Penguin Forums was released on March 2, 2008 and was moderately well received by the community. It's tongue-in-cheek observations of the community became somewhat of a cult status in the forums, and the phrase "I mean it" (Dracophile's reference to the "no hacking" rule) became a shortlived meme on the forum. The film itself struck the majority of users in the funny bone because after it was released, it was suggested that the Introduction be included into MCCP's Forum Rules; and was later done so.
Portions of the many arguments shot for The Anime Channel forum became shortlived catchphrases among the community, namely "Akira Toriyama is my dad". The phrase later had an achievement named after it.
Re-Release Edit
On March 2, 2009 the film's entire outtakes reel was released in as a standalone show in celebration of the forums' second year in use. The hosting segments by Dracophile were removed and after the initial production bumpers the video goes straight to the outtakes. The credits for the film were slightly altered and play the track "Business Card Ad" by Club Penguin band TAS 1000. The credits end with a signoff from Dracophile hoping for "another year of MCCP".